Wardrobes are undoubtedly one of the most functional spaces in a home. But, being the most important storage space in any of your rooms, a wardrobe is usually not given too much attention. However, any interior designer in Bangalore will tell you that there is so much to do with an Indian wardrobe!
Indeed! The aesthetics and style of living spaces aren't just limited to decor inclusions, furniture, or colors. A wardrobe goes a long way in elevating the design of any space and can be the game changer in your home interior design. Moreover, a wardrobe is the best place to store your belongings in a safe and secure unit. So it is easy to see why there has been a huge demand for an interior designer in Bangalore to help homeowners create stylish and functional wardrobe designs.
That being said, why should you settle for a plain and uninteresting wardrobe when you can transform it into something amazing? When you partner with an interior designer in Bangalore, you will get to know just how creative one can get with a wardrobe. But, more importantly, you will see how some simple wardrobe design ideas can change the very outlook of your living space.
So are you eager to experiment with your wardrobe and amaze yourself? Then, check out these wonderful wardrobe design ideas that you can immediately apply to your home.
The Best Indian Wardrobe Design Ideas For Your Living Space
Stick to warm and earthy tones
It is important to understand that the wardrobe is an essential part of your room that can make or break your design. As such, it is strongly recommended to utilize warm tones such as yellow, brown, beige, or cream to make your wardrobe stand out and accentuate the rest of your room space. These warm colors can also give your space an earthy outlook, which makes the entire space look and feel more welcoming and charming. While you can also go with darker tones, one should accordingly make the rest of the room complement the color of the wardrobe. In either case, an earthy outlook is always a safe bet.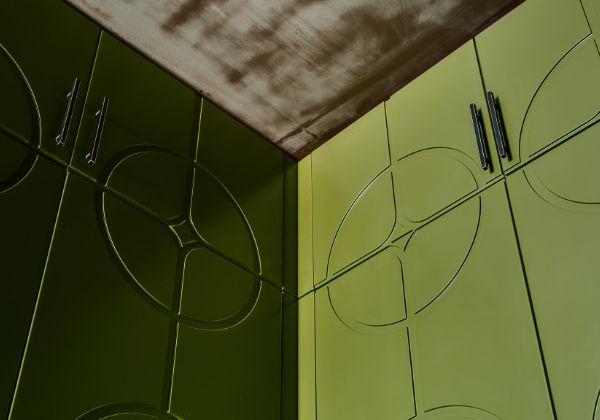 Utilize your wardrobe doors as mirrors
It is a common practice in India to equip the wardrobe in the bedroom space. So any interior designer in Bangalore would always aim to blend style and substance in a seamless and innovative way. As such, turning the wardrobe door into a mirror is a win-win. Regardless of what the base design of the wardrobe is, you can add mirrors to add a new degree of functionality to your wardrobe. Not to mention, it also looks super stylish.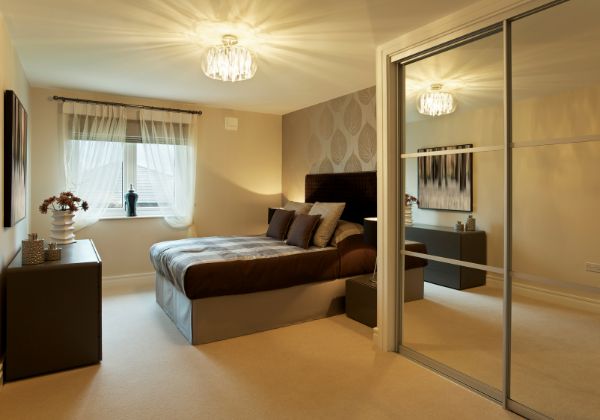 You can never go wrong with a sliding wardrobe door
An amazing way to make your living space more compact and spacious is to utilize a sliding door for your wardrobe. They add both functionality and convenience to your wardrobe and living space alike. This design has gained widespread popularity and prominence in Indian homes over the course of the last few years. The best part is the fact that this design is applicable no matter what the size of your room is. So you can rest assured that it would look super stylish and be functional 24/7.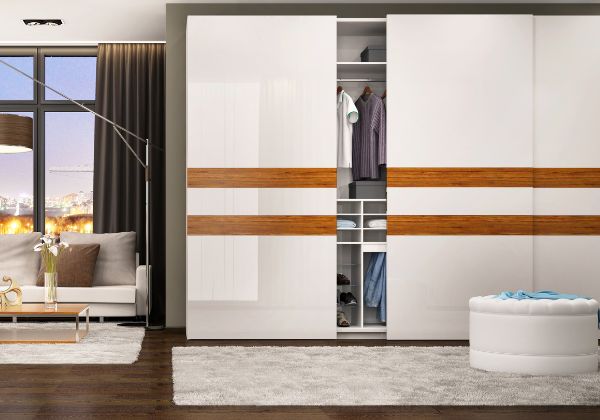 Utilize multiple units for the wardrobe
Most of us utilize a wardrobe in a multifunctional way. We store more than just clothes in our wardrobes, and more often than not, we find it difficult to stuff our belongings into a limited space. This is where clever interior design can help. By turning your wardrobe space into multiple units, you can store a wide range of products easily and systematically. It is also worth mentioning that it looks super stylish and modern.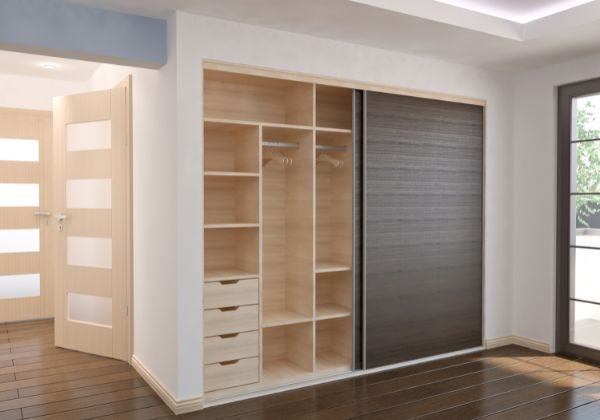 Add bold colors to your wardrobe and the surrounding space.
There is no compulsion to use warm colors. If those colors don't add to your personal preferences, you can go ahead with bold colors. Add a pop of bold colors such as black, sea blue, or olive green. Add contrasting colors to other parts of the room to complement the wardrobe.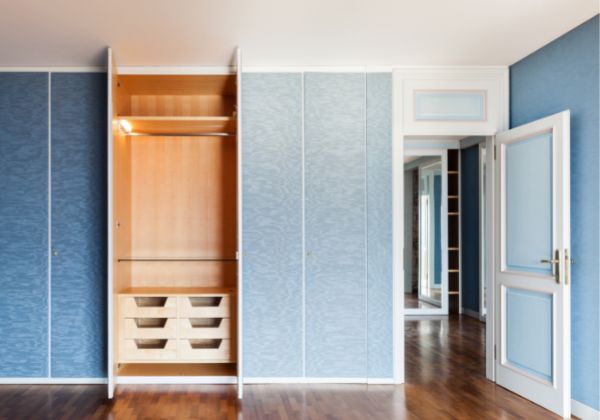 Add lamination to the surface of the wardrobe.
Adding a laminated surface to the wardrobe is a simple and cost-effective option to make your wardrobe design super stylish, modern, and classy. This also ensures a good-looking and durable finish that lasts for years.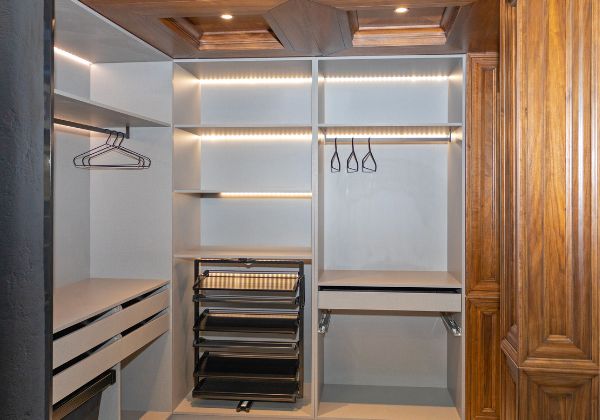 Use corners effectively
The corners are some of the most important parts of a room. You can set a stylish wardrobe in the corner of your room and make a superb style statement.
Our interior designer in Bangalore can help you transform your wardrobe design.
Home Chromosome is among the leading interior designing and home decor companies in Bangalore that come with the right blend of experience and expertise. With our track record of working with countless homeowners with a wide variety of home design ideas, we are armed with the innovation and workmanship required to design the most amazing wardrobe designs.
Just like a chromosome forms the basis of human life, we do the same for your home. We take charge right in the beginning so that you do not have to make adjustments later. We believe in being right the first time, and our 1000+ family of customers will vouch for it.
We are a brand to reckon with when it comes to taste, finesse, luxury, and extensive customization. We aren't just any interior design company. We are a "design firm"- a brand that works from the ground up to ensure complete harmony in every element that comes together to make your home the home of your dreams.
We understand that our company can progress when we have the right people. That's why we house the finest home interior designers in Bangalore to bring you nothing short of the best you can get. With a cumulative set of uniqueness, design outlook, creativity, and penchant for excellence, experience the highest standards of designs and customer service like no other!
Get in touch with our home design team today and see your dream living space take shape right before your eyes.