Are you looking for someone to transform your office into an ideal comfortable environment? Every business location, including offices, retail stores, salons, restaurants, and hotels, relies on enticing interior design to attract customers. And the best commercial interior designers in Bangalore, Home Chromosome, are prepared with modern and promising trends.
The commercial design will bring accurate combinations between aesthetics and usefulness, from versatile furniture design to innovative space planning. Every business location, including salons, restaurants, retail stores, offices, and hotels, relies on enticing interior design to attract customers. And the best corporate interior designers Bangalore and Home Chromosome, are prepared with modern and promising trends.  Now let's dive into what Commercial Interior design. 
What is Commercial Interior design?
The interior design of various commercial locations, such as shops, offices, lobbies, dining establishments, and other public spaces, falls under the category of commercial interior design. Planning is where ideas for developing commercial spaces first emerge. Commercial interior designers in Bangalore work with architects to research the most recent design trends in the sector to arrange items that can affect how the finished room will seem.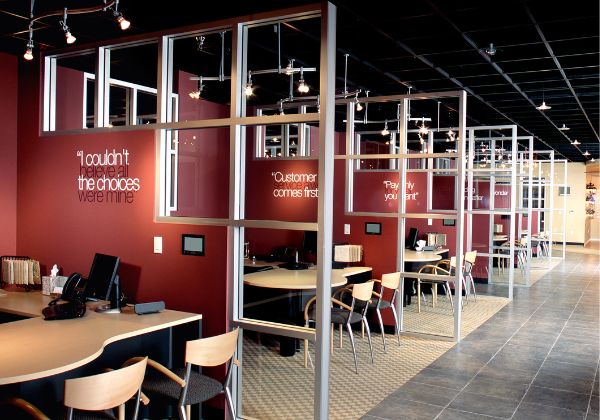 You should keep these in mind when designing –
A well-made commercial space requires careful planning, imaginative design thinking, space management, skillful handiwork, and exact execution.
Applying seamlessly entwined interior design strategies can create aesthetically stimulating spaces that adhere to particular themes, adding an exciting twist to an otherwise uninteresting space.
Good commercial interiors are recognized to dramatically improve the area and entice people to spend more time nearby, even though they may typically go unnoticed by most. Thus it enhances the growth of businesses.
Commercial interior design might include an already-existing design aesthetic or develop a brand-new one. When the best Commercial Interior Designers design the interiors of corporate lobbies, tech-focused offices, or government workplaces, For instance, Modern Art contemporary design is Trendy. However, traditional decor that makes use of natural wood or a country-like design style that adds warmth and comfort to the atmosphere of a Store or a restaurant can also serve as an inspiration for business interior design.
What do Commercial Interior designers in Bangalore do?
Commercial interior designers in Bangalore are taught to put functionality and safety first while maintaining a sense of flair and beauty. For instance, if a luxury hotel wants to maximize earnings, it must have a particular number of rooms available. But to achieve this, the hotel must dazzle visitors with its large rooms, opulent bathrooms, and magnificent vistas. The entrance should wow visitors, and space should be made for upscale attractions, including saunas, salons, cinemas, open areas, pools, and a bar and dining.
Combining these requirements into a functional and lovely place falls to the best commercial interior designers in Bangalore, who are more than qualified to do so. Bangalore's best corporate interior designers are skilled in planning spaces without sacrificing design. Additionally, they have received training to make sure that the entire building complies with safety regulations. Here are some of more functions of commercial interior designers in bangalore are:
They play a significant role in the remodeling and building processes.
They collaborate closely with manufacturers and cons regarding, among other things, architectural elements, lighting, floor and wall styling, display placement, and technological development.
Along with other crucial responsibilities, the best commercial interior designers in Bangalore also define the project's scope of work, create schematics and blueprints, choose the appropriate materials and manage budgeting and scheduling.
What is the Purpose of Commercial Interior Design?
Now that we know what interior designers do, why do we need it? A function of any commercial space is characterized by its interior design, just as the proverb states that building interior, not its appearance defines its purpose. Even the best company in the world might not be successful if the interior space is poorly planned, whether the form is located in Mumbai or Bangalore, or any other upscale retail location.
To achieve this objective, businesses need unique commercial interior designs; Home chromosome is the best commercial interior design company in Bangalore. Therefore, there are many reasons for a company or government organization to hire commercial interior designers in Bangalore for their area.
In a retail setting, a well-designed room attracts clients more, boosting foot traffic and enticing them to spend more time perusing the merchandise. When it comes to office space, a designer may use a commercial interior design to create a theme highlighting the business's corporate identity. For instance, a tech company can emphasize technical efficacy by decorating its office space in a modern style. On the other hand, a restaurant can like its interior design to resemble the regional style of the brand it serves. 
What is the difference between Commercial and Residence design?
You might be wondering why this question is essential? Well, will you design your living room and bedroom the exact same, no, right? Because, Living room is meant to be warm and welcoming for the guests, and the bedroom is for peaceful sleep.  The designing of kitchens, baths, custom furniture, and home offices are areas of expertise in residential design. According to the industry or business, there are many specialist areas for the best commercial interior designers to create a design, including healthcare, luxury hospitality, the entertainment industry, and even a range of government projects. Even some commercial interior designers in Bangalore focus solely on improving the aesthetics of boutiques and retail establishments. A commercial interior design company in Bangalore, Home Chromosome, creates appealing offices and increases productivity. Making the appropriate decision presents a problem. 
Commercial Interior design tips by the best commercial interior designers
Lighting
Artificial lighting is a specialty of a commercial interior design company in Bangalore, Home Chromosome. More than just keeping people out of the dark, lighting design in commercial areas has other purposes. Use it to promote products, direct customers through the store, and enhance the ambiance.
Technology Implementation by commercial interior designers in Bangalore
The technology significantly impacts interior spaces designed for new houses and businesses in the modern world.
Technology is essential to retail organizations' operations, communications and sales.
It is now essential to design commercial facilities from a technical perspective for usability.
Designers enrolled in interior design programs are aware of the importance of fusing aesthetic design with utility. This is a crucial component of business interior design.
A business space needs seamless technological system implementation.
Facilities for telecommunication systems, such as computer networking telephones, television, and media players, should be considered while designing business interiors.
Additionally, a systematic installation strategy for centralized or decentralized digital control systems is always required, taking into account the convenience and productivity of staff, customers, and diners.
Versatility
Modern commercial spaces need to be versatile.
Aim to create areas that can be reconfigured and the needs of your clients' companies evolve.
Design something that your client can swiftly modify the space whenever they need to without having to stop running their business for pricey demolition and repairs.
Understanding each space's purpose is the first step in designing with intention. Then create with the sense that every component, whether a shelf, a barrier, or even a decoration, serves a purpose that adds to the space's overall goals.
The concept of "organic architecture" holds that people naturally love nature and flourish when connected to it.
Home Chromosome, the best corporate interior designer in Bangalore, can help you apply this to designs by including natural components such as vegetation, wood, stone, and natural light. 
It has been demonstrated that including natural components like these in a commercial environment can lower stress, boost emotions of well-being, and even encourage clients to invest more.
HomeChromosome commercial interior designers in Bangalore
Home Chromosome is the best commercial interior design company in Bangalore that can transform your office into a comfortable workplace setting. You can visit the Home Chromosome website to find out more and start with your corporate design company transformation.
If you are searching for best commercial interior designers in Bangalore, you may also reach out to us. You can access our portfolio here and our instagram handle here. For prompt response from us, email us on info@homechromosome.com. We are the best commercial interior designers in Bangalore who take charge right in the beginning so that you do not have to make adjustments later. We believe in being right the first time, and our 1000+ customers will vouch for it.