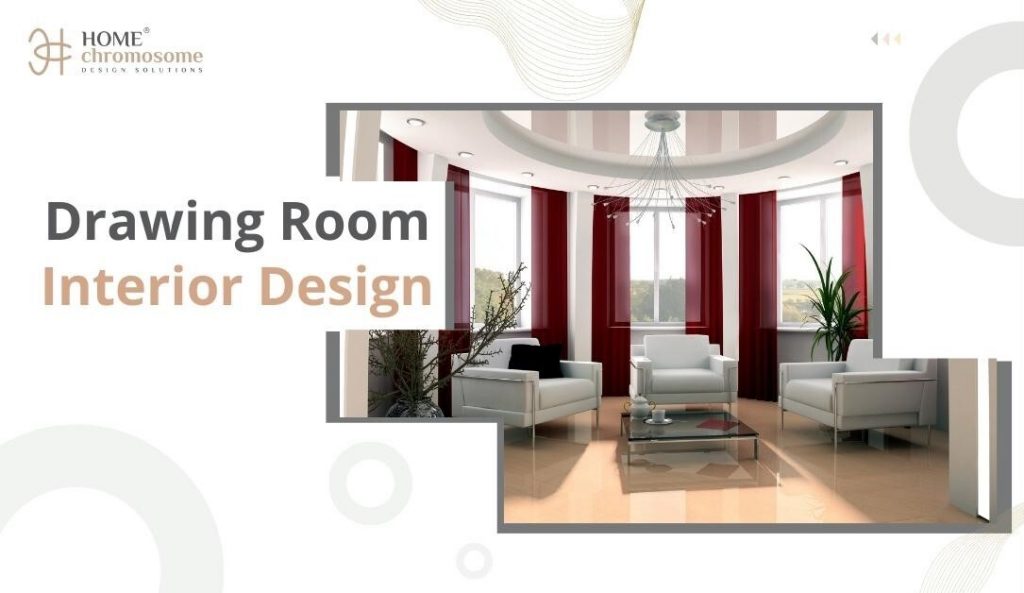 It goes without saying that the drawing room is one of the most important parts of your home. Often the first room that your guests come across when visiting your home, this versatile and multifunctional room creates the first and best impression of your home for most people. As such, it is a great idea to get a top-notch drawing room interior design done by professional interior designers in Bangalore. 
As a premier destination for home decor and designs in Bangalore, HomeChromosome has established a legacy for itself courtesy of its exceptional designs, unmatched expertise, and many years of experience. So if you are looking for a stunning drawing room interior design for your home, look no further than HomeChromosome. 
We will provide you with a full-fledged perspective on how a well-designed drawing room should look and feel like. We shall cover all core aspects pertaining to your drawing room interior design to help you elevate the aesthetics, functionality, and style of your drawing room. So without any further ado, let's begin!
Utilization of space in the drawing room
It is very important to ensure that your drawing room is spacious enough to accommodate your family and guests alike. So before you go ahead with the designing of your drawing room and the associated decor, try to gauge how much time you and your family spend in the drawing room. In addition, it is equally important to ascertain the space you would need to get all your furniture and accessories into the drawing room seamlessly.
Having less space calls for better furnishing while more space naturally gives you more freedom to include more elements. Using artwork, carpet, plants, paintings, a coffee table, and stylish fabric on furniture and cushions are some of the best ways to make your drawing room look more lively and beautiful.
Furniture in the drawing room
Furniture is a core aspect of the drawing room and this category primarily includes sofas, chairs, and tables. The dimensions of the room form a governing factor for the way the furniture pieces are laid out in the drawing room. For instance, a small drawing room interior design is feasible for more compact furniture pieces such as an L-shaped sofa, a chair or two, and a small coffee table at the centre. It is crucial to make sure that there is still enough space for movement of people within or in and out of the drawing room.
For instance, when there is a substantial gathering of guests at your place, you can consider a sofa that doubles up as a bed by simply folding the furniture. Moreover, you can also go for furniture that folds or is on wheels. This way, you will be able to make your drawing room more efficient in terms of space and use certain components only when they are necessary.
Ideal colors for you drawing room interior design
It is obvious that colors are a top priority for any form of interior design and your drawing room is no different. Did you know that you can use the color of your drawing room to make it look more spacious?
The usage of any light color is a well-established means to make any room more spacious. As such, colors such as white, cream, beige, sky blue or yellow are great ways to make your drawing room appear bigger. In the same way, using colors of darker tones make your drawing room look more compact. This can be achieved by using any bold colors in the major parts of your drawing room.
Curtains
Without curtains, a drawing room would feel incomplete. Curtains are known to add a distinguished, artistic, and vintage look to a drawing room. You have a wide range of options in terms of colors and patterns when it comes to deciding the perfect curtains for your drawing room. However, it is important to note that the design of your curtains will depend a lot on your drawing room's windows, walls, floor, and other decorative elements of the room. As such, it is usually recommended to take professional advice from an interior designer to discover the perfect curtain design for your drawing room. Lastly, cotton and silk are two of the most popular materials for curtains.
Lighting
If there's one room in a typical home that is lit most of the time, it's the drawing room! And narrowing down on the perfect lighting option for your drawing room is easier said than done. For instance, one should never opt for central lighting as it would end up forming shadows, uneven brightness, glare, and irritation to the eyes. As such, it is recommended to go for a combination of fluorescent lights, lamps, and bulbs to create a proper lighting space. You can also add accessories and ornamental inclusions that give off light themselves. This gives your drawing room a beautiful artistic outlook. Attaching lights to your cabinets or a false ceiling are also amazing ways to make your drawing room more breathtaking.
Flooring
The most common flooring options for drawing rooms include marble flooring, ceramic tile flooring, and wooden flooring. Honestly, there's no "better" option among the three. Each of them are popular and functional, adding beauty and grace to your drawing room space. So it is all a matter of personal preferences and your interior designer would be able to guide you better as per your needs, home design, and lifestyle.
HomeChromosome – Your ultimate destination for drawing room interior design in Bangalore
Just like a chromosome forms the basis of human life, we do the same for your home. We take charge right in the beginning so that you do not have to make adjustments later. We believe in being right the first time, and our 1000+ family of customers will vouch for it.
We are a brand to reckon with when it comes to taste, finesse, luxury, and extensive customization. We aren't just any interior design company. We are a "design firm"- a brand that works from the ground up to ensure complete harmony in every element that comes together to make your home the home of your dreams.
Need the best drawing room interior design experts in Bangalore? Get in touch with HomeChromosome today!